ALLEN GRUNES
Allen Grunes is an antitrust lawyer whose practice includes advising clients on mergers and acquisitions, providing counseling on non-merger matters, and representing clients in federal court, before the federal antitrust agencies and before Congress. He has extensive experience in a range of industries, including media and entertainment, telecommunications, and the high-tech sector.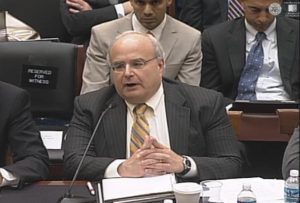 Mr. Grunes spent more than a decade at the U.S. Department of Justice Antitrust Division, where he led many merger and civil non-merger investigations in radio, television, newspapers, motion pictures, and other industries. He was part of the litigation team in a number of important cases brought by the United States, including United States v. Alex. Brown & Sons (NASDAQ Market Makers) and United States v. National Association of Realtors. He and Maurice Stucke briefed and argued government's application to participate in class action settlement in In re Visa Check/MasterMoney Antitrust Litigation (Wal-Mart Litigation).
Mr. Grunes writes and speaks frequently on antitrust topics. He has also provided analysis for the media, including Bloomberg, CQ Weekly, Law360, Main Justice, the New York Times, Reuters, the Wall Street Journal, and the Washington Post.
Mr. Grunes is President-Elect of the Bar Association of the District of Columbia. He serves on the Advisory Boards of the American Antitrust Institute in Washington, D.C. and the Institute for Consumer Antitrust Studies at Loyola University Chicago School of Law. A graduate of Dartmouth College and Rutgers-Camden School of Law, with an LL.M. from New York University, Mr. Grunes was included in Thomson Reuters' 2017 list of Washington D.C. Super Lawyers.
He is admitted to practice in the District of Columbia, Ohio and Illinois.
REPRESENTATIVE MATTERS
Represented RV Management Corp. and its subsidiary, Renal Ventures Management, LLC in the sale of the issued and outstanding equity interests of Renal Ventures Management, LLC to DaVita Inc.
Represented the International Brotherhood of Teamsters in opposition to the proposed Sysco/US Foods merger before the Federal Trade Commission.
Advocated against Comcast's proposed acquisition of Time Warner Cable before Congress, the Department of Justice and the Federal Communications Commission.
Represented Kroenke Sports & Entertainment, LLC in its acquisition of the Sportsman Channel and related properties from InterMedia Partners, LP.
Represented Regional Care Services Corporation, the parent company of Casa Grande Regional Medical Center, in connection with the sale of the hospital to Banner Health.
Represented Warner Music Group in connection with the Universal/EMI merger before Congress and the Federal Trade Commission.
Advocated against AT&T's proposed $39 billion takeover of T-Mobile for an informal coalition of companies seeking to preserve a competitive mobile wireless marketplace.
Represented a class of temporary nurses in federal antitrust litigation against a state-wide hospital association and several individual hospitals in Arizona.
Represented Lube Distributions Holdings Inc., a portfolio company of KRG Capital Partners in the sale of Petro-Choice, the largest distributor of consumable commercial, industrial and passenger vehicle lubricants in the Mid-Atlantic and Upper Midwest regions of the U.S, to Greenbriar Equity Group.
Assisted Graham Packaging Company, L.P., a portfolio company of Blackstone Capital Group, in a $568 million strategic acquisition of another manufacturer and supplier of technology-based, customized blow molded plastic containers for the branded food and beverage, household, personal care/specialty and automotive lubricants product categories.
Filed an amicus brief on behalf of Intellectual Ventures Management and individual inventors in the U.S. Supreme Court in the Microsoft Corporation v. i4i Limited Partnership patent case.
Represented an individual in an international criminal antitrust investigation brought by the U.S. Department of Justice and European authorities in the freight-forwarding industry.